The LiveWell diet for France would reduce greenhouse gas emissions from the current average by 25% and decrease an average person's daily expenditure on food from €4.90 to €4.36 a day.
The biggest increases shown in the LiveWell Plate, compared to the current French diet, are in the consumption of legumes and cereals. The biggest decreases are in meat and meat products, as well as in highly-processed sweets, such as cakes. Consumption of dairy foods increases, but only modestly.
Current consumption in France
Carbon emissions table
The table shows the greenhouse gas emissions for the LiveWell Plate compared to those of the current average diet in France.
Current average diet
gCO2 equivalent/day
LiveWell Plate
gCO2 equivalent/day
3,478
2,609
Cost table
The costs for the LiveWell Plate compared with the costs of the average current diet in France.
| Average cost per day | LiveWell Plate cost |
| --- | --- |
| €4.90 | €4.36 |
Case studies
France
Spain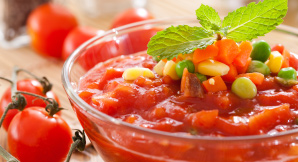 Sweden